New developer Rig
Friday : 28 Nov '08 - 10:56 | damen

default

two comments, already |

This time I really upgraded my PC and for the first time I have bought a complete system in stead of components and building it myself. So I went to the local discounter Aldi Sued and got myself this machine: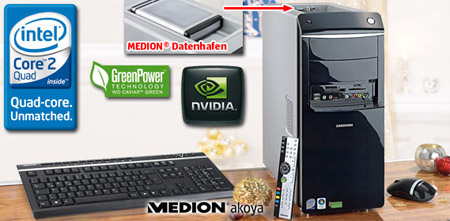 The Specs are ok, don't you think:
*
Prozessor
Intel® Core™2 Quad Prozessor Q8200
(2,33 GHz, 4 MB Cache, 1333 MHz FSB)
*
Große Festplatte
1 Terrabyte (1000 GB) Festplatte mit GreenPower™
Technologie von Western Digital. Mit viel Platz für
bis zu 200.000 Fotos/Musiktitel oder 600 Stunden
TV-Aufnahmen (Bei 4 MB Titel/Fotos bzw. 20 MB/Minute)
*
Grafikkarte
NVIDIA® GeForce® 9600 GT Grafikkarte
mit 512 MB GDDR3 Speicher, HDMI-Anschluss,
DirectX® 10 und HDCP Unterstützung
*
Großer Arbeitsspeicher
4 GB Arbeitsspeicher mit 667 MHz 64 Bit
Dual Channel Memory¹
*
ANALOG / DVB-T / DVB-S TUNER
Der MEDION® AKOYA® P7300 D
verfügt über einen 3fach-TV Tuner, der die Formate
DVB-T, DVB-S und Analog beherrscht.
Für zusätzliche Bequemlichkeit sorgt die Funkfernbedienung.²
*
INTERNET
Integriertes WLAN3 IEEE 802.11n Draft mit bis
zu 300 MBit/s, IEEE 802.11 b/g kompatibel.
Für die volle Leistung ist ein IEEE 802.11n Draft Router erforderlich, nicht im Lieferumfang enthalten, 300 Mbit/s Brutto, netto max. 75 Mbit/s.
*
DVD/CD
Multinorm Dual Layer DVD/CD-Brenner 4
unterstützt alle gängigen CD/DVD Standards
*
eSATA & HDMI
Die High Performancelösungen für zuverlässigen Datentransfer
bei optimaler Übertragungsrate
I'll let you know when I first used it... can't wait!