Weihnachtsstress
Friday : 22 Dec '06 - 22:08 | damen

default

Only one comment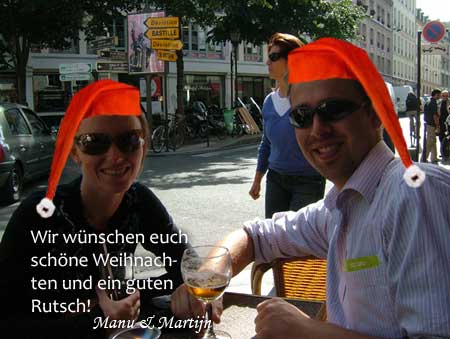 BTW: Who sees the important detail in this picture?
I just found this interesting poem on the web, describing this season for what it is for most people.... pure stress!
Weihnachtsstress
von Monika Peschel
Als im August in den Geschäften
die Pfefferkuchenzeit begann,
da fragten viele mit Entsetzen:
Kommt denn schon jetzt der Weihnachtsmann?
Seitdem sind Monate vergangen,
nun ist es wirklich fast soweit.
Es öffneten die Weihnachtsmärkte
und in der Luft liegt Heimlichkeit.
Längst sind die Wunschzettel geschrieben,
der Stollenduft zieht durch das Land
und auf der Suche nach Geschenken,
wird selbst am Sonntag rumgerannt.
Es gibt so vieles zu bedenken,
damit man wirklich nichts vergisst.
Und mancher wünscht sich schon seit Wochen,
dass alles bald vorüber ist.
Dann ist er da, der Heiligabend,
der Weihnachtsbaum ist bunt geschmückt.
Jetzt gibt es nur noch den Gedanken,
dass auch der Weihnachtsbraten glückt.
Die Feiertage gehn vorüber,
man übt sich in Besinnlichkeit.
Doch um sich wirklich zu besinnen,
bleibt einem viel zu wenig Zeit.
Gestresst von all dem Weihnachtstrubel
schwört sich dann wieder jedermann:
Im nächsten Jahr wird alles anders!
Na, hoffentlich denkt ihr auch dran.
Wat een prachtige Kerstzonnebrillen dragen jullie.

M Xmas es HNY

73/cu
Peter - 23 December '06 - 00:07