Vista problems
Sunday : 14 Oct '07 - 08:21 | damen

default

No comments yet
Strange thing happened today, as I logged in onto my home machine vista started to complain that my profile could not be loaded. And the worst thing was, it was not loaded! So I ended up with a default temp profile, where I had none of my settings etc.

Some searching on the web brought me closer to a solution, they suggested to have a look at the registry entries at HKEY_LOCAL_MACHINE\SOFTWARE\Microsoft\Windows NT\CurrentVersion\ProfileList\. So I went there with the tool regedit (Start, run, regedit) and found out that my original profile had a .bak behind it (somehow that did not change since the good old dos times

) and there was a new profile with exactly the same key, which was the new temporary profile I had.

So I removed the profile Vista added and renamed my old profile back (just removed the .bak) entry, and then it worked again.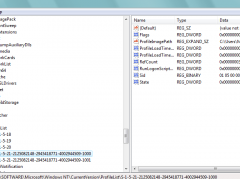 But I still do not know why this happened.... some websites talk about it having to do with a missing network connection due to Microsofts new TCP stack, but that sounds very out of order..
Then I solved another problem I had, somehow Firefox caused my system to not understand the .xps (
the Microsoft document format
) anymore. Each time it would open firefox and then complain it could not load the file.
To solve this I installed the standalone XPS Viewer that can be
downloaded
from Microsoft.