Isola del Giglio
Monday : 19 Jun '06 - 07:46 | damen

default

No comments yet
finally I found some time, or better to say made some time, to write something about our trip to Italy, to the Island of Giglio... We went there last week to help out a diving group from Würzburg, who had to few diving instructors. Therefore they send out an email to everybody who participated in the instructorcourse and four replies were the result, one ofcourse of me



We drove there during the night friday on saturday, which was quite a drive, but we made it to the ferry around 9:00 in the morning. That gave us time to get a good italian breakfast before boarding at 10 and going to the island. btw, the italian breakfast is not the best in the world, the coffee is, but further it is all just small sweet cakes..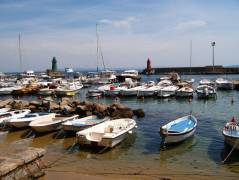 So then we found a ferry to get us to the other side and on that ferry we already met some of the others that were going there, all members of the
TauchSportGruppe Würzburg
, and all got to know eachother. After arriving on the island we had to drive over the top to the other side, the small city of Campesa, where our appartments as well as the diving center was.
And the next day the diving started.. most of them can already be viewed in my
divinglog
, for which I now have a reason to enhance it