Rabbit
Friday : 14 Jul '06 - 12:55 | damen

default

three comments, already
On Wednesday something quite weird happened to us, we were coming back from dinner in the city of Nürnberg when suddenly I saw something passing us. At first I thought it was some kind of dog or cat, but it turned out to be a very nice little rabbit. Probably escaped or left outside because of the summer holidays, it was walking around in the city center. Because we were afraid it would get under a car we took it home and brought it to the animal farm the next day.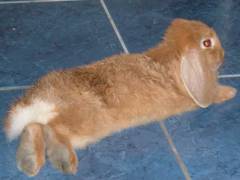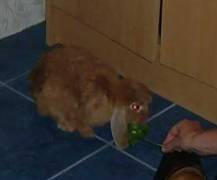 Ohne Kaninchen:

Kuchen doof
Kochen doof
Heizplatte doof
Bestck doof
Gewürzständer doof
Kochbuch doof
Füllung doof
Ofen doof
Teller doof
Mahlzeit doof
Peter - 14 July '06 - 19:52
I've a friend who hunts pheasant, deer and even rabbits – look out little fella!
joe - 17 July '06 - 12:00
He Joe, that was not nice

Anyway, we already brought them to the take-care-of-runaway-pets place here in Nuremberg, so you can tell you friend to go there

Martijn (URL) - 18 July '06 - 10:10