I don't like this anymore
Sunday : 25 Feb '07 - 14:49 | damen

default

two comments, already
I should publish this under the category funny, but this comic is so completely true that it is really not funny anymore, it is just scary!!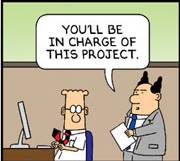 Hoe kun jij nu weten dat het bij ons zo werkt?

Peter - 25 February '07 - 19:05
Psies! Akelig bekende vorm van aansturing. Hij rolde bij mij vanochtend al uit de printer..
Nemo - 26 February '07 - 13:22