Nitrox Enriched Air
Monday : 10 Sep '07 - 19:30 | damen

default

two comments, already
I just got mail from the VDST, our diving association. Last week I sent them a huge pack of paper to get my instructor degree for Nitrox * divers and today I got mail: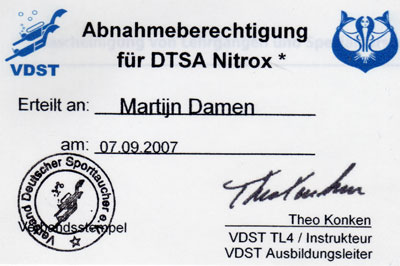 So now I'm also allowed to teach people the advantages of diving safer with enriched air ..... just give me a call if you want to know more about it!
Congrats! Zelf heb ik nog nooit met Nitrox gedoken, dus wie weet…
Nemo - 11 September '07 - 16:53
He wann hast du das den gemacht, na dann herzlichen Glückwunsch zu deiner Abnahmeberechtigung.

Gruß
Michael
Michael () (URL) - 14 September '07 - 20:15