Weekend
Monday : 01 Oct '07 - 08:18 | damen

default

three comments, already
This was again a very nice weekend


It started a bit rainy as I went to Erlangen for the kids diving class, this time we had about 10 children eager to dive. The Saturday afternoon was spend with a wine tasting event, with four friends and little Sarah we drove to the city of Sommerarch, where we walked a bit through the winery and then enjoyed a typical franconian 'Brotzeit' and some of the local wines.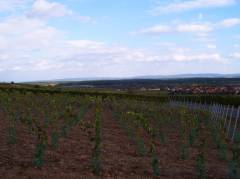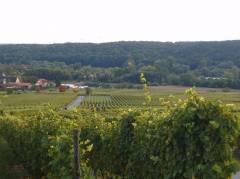 After about 4 hours it was enough and we went home, of course packed with some wines

Then on Sunday we drove to Manu's parents where we were invited for a great meal, they has fresh roasted duck with potato dumplings, just awesome. After that I helped here mother with the wine making. A couple of weeks ago I gave all of my wine making stuff to her parents and they are currently making different wines, and Sunday was the first pressing day. I was really a very long time ago since I've been doing this wine making, we used to do it a lot during university, but somehow the time and room (you really need a garden) was not there anymore.
But this time it was really fun, and much easier/better than doing it in my kitchen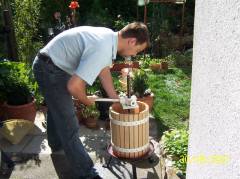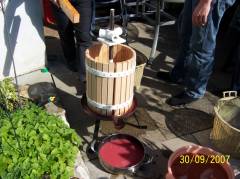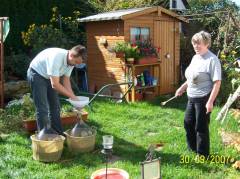 Then we drove to their weekend house nearby to plant a tree. This was the tree which was actually meant for Jeroen and Anja and their wedding, but I forgot it due to the early rise last week. So we decided to plant it here at the weekend house, and with that I have fulfilled one of my three tasks as man.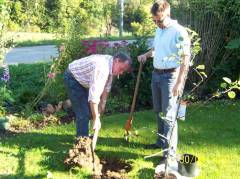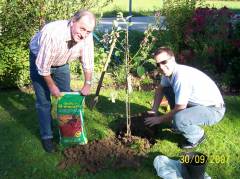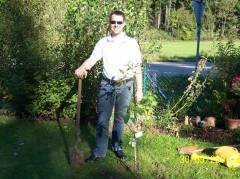 Because we were active in the garden anyway we decided to finish a task that was due anyhow, cutting down a tree. So we planted one tree and cut down another. That was a cherry tree which somehow did not bear fruit, and therefore had to go.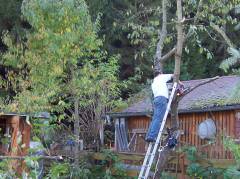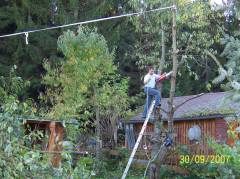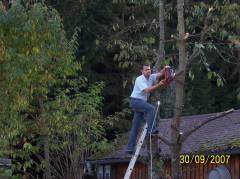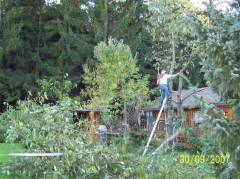 So as summary, wine tasting, wine making, planting a tree and cutting a tree, all combined with great food. That is what I call a good weekend

Niet te geloven, Nu is het echt vastgelegd, Martijn aan het werk .
Het doet me goed om te zien dat je toch best wel handig bent



Groet,

Oboema
Oboema - 01 October '07 - 11:16
Hehehe,
Tja, daar zijn al die jaren op het groepshuis klussen toch wel handig voor he. Ook schoonpapa vond het allemaal heel goed wat ik zo kon.
Maar goed, dat heb je af en toe ook wel ff nodig he, tussen al het in buro zitten door. Helaas heb ik hier geen scouting om me af te reageren, dus dan maar zo

Martijn (URL) - 01 October '07 - 20:06
En hoe voelt het nu om 1/3 man te zijn?

Peter - 01 October '07 - 20:52