Koh Lanta and diving
07:20 | damen

Thailand

one comment
We arrived on Lanta Island on Wednesday after running away from Koh Phi Phi and found us a really nice place here at long beach. There are a lot of small bars and restaurants and they have the most delicious fresh fish from the bbq here.

Ofcourse Martijn has been diving two times since then, on Thursday and Friday:

Thursday
Two dives at Koh Ha, there we saw lots of moray eel, porqupine fish, trumpet fish, baracuda, Tuna, sea turtle, and during the first dive a big leopard shark



The second dive we saw the same, but also 2 very nice sea snakes.

1: 49 min / 25 meter
2: 60 min / 17,6 meter

Friday:
Two dives, one at Hin Muang and the second at Hin Daeng. We went out in the speedboat, and say Mantas with both dives!!!! Great animals, we saw 4 of them. Further lots of other stuff, great diving spot.

1: 45 min / 30 meter
2: 58 min / 20 meter

The speedboat is supposedly the fastest boat on the island and was really good in getting us to the dive spot, which is a 50km trip.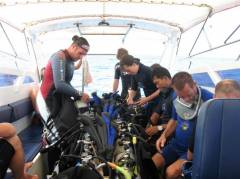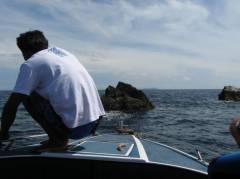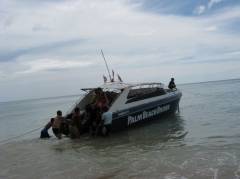 Today is a dive free day and we are both lying around in hammocks, enjoying the fresh fruit shakes and the weather.Perhaps we will do some snorkling on Monday and Tuesday, before leaving for Bangkok again. Tomorrow is another dive day for Martijn, 3 more dives near a wreck.
Check also our
photo album
for more pictures of Koh Phi Phi and Koh Lanta
Lul
Nemo - 19 11 07 - 10:02