Beach Time and more diving
12:03 | damen

Thailand

seven comments
Saturday
On Saturday we took the day to relax and do absolutely nothing. In the evening there were several parties where we were invited and we went to the one at Irie's. They had live music and later on a dj turned the tables, but by then we were already gone. Further we enjoyed a nice thai massage, which is great when you have a slight breeze from over the beach and the view on the sea



We started the day with a nice breakfast at the Coffee Asylum, which kind of is our standard place to go to for breakfast and May and Michael are great hosts. There we spend the better part of the afternoon in hammocks reading.... very relaxed.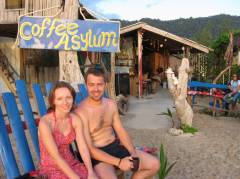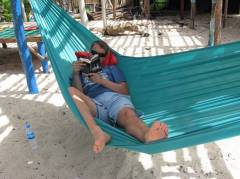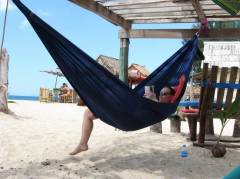 After that we walked a bit up and down the beach and had some thai food probably .... not too sure anymore what we did, but it took kind of the whole day

Oh and by the way, the sunsets are beautiful here !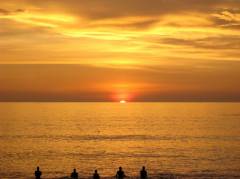 Sunday
On Sunday Martijn went diving again, this time to the King Cruiser Wreck, Sharks Point and Anemone Reef. Great visibility, great stuff to see:
Sea snake, again a sea turtle but this time swimming, boxfish, lot's of baracuda, lot's of moray eels, again a leopard shark, beautifill srimps, soft corals, hard corals, anemones all the eye could sea

Manu spended the day on the beach again, enjoyed a nice coconut oil massage and in the evening we sat on the beach with a american-german couple we met. Very relaxed, again

Monday
We slept in and in the afternoon we took a taxi to Lanta Old Town, where we had a look around. Then we went on to a remote beach where there were less than 10 people, including us, and enjoyed the water and small crabs.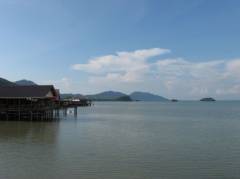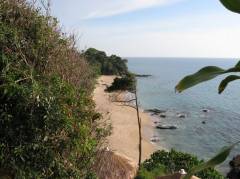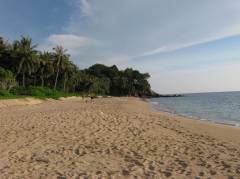 Lul
Nemo - 19 11 07 - 16:52
Je moet je helemaal NIX van Nemo aantrekken. Die is stinkend jaloers.
Peter - 20 11 07 - 07:29
VAN HARTE GEFELICITEERD !!!!!!!!!!!!!!!!!!!!!!!!!!!
Peter - 20 11 07 - 07:29
Gefeliciteerd!!!
Nemo - 20 11 07 - 11:56
(lul)
Nemo - 20 11 07 - 11:57
@ Nemo: Foei !
Peter - 20 11 07 - 18:49
I guess that to receive the credit loans from creditors you must present a good reason. However, one time I've received a sba loan, because I was willing to buy a bike.
CLAREJoseph29 () (URL) - 04 07 10 - 00:33