Eastern in Amberg
Monday : 24 Mar '08 - 16:06 | damen

default

No comments yet
We spent these eastern holidays in Amberg with the parents of Manu. It was very relaxed and interesting enough this was a white eastern (!!). As we drove there on Saturday we already has some snow and the next morning, on eastern Sunday everything was white.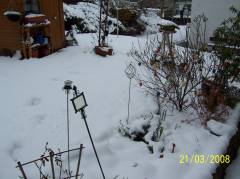 On Sunday afternoon we went to the animals shelter and got some dogs to take them out, a good way to do something good and have some exersize. In the evening we went into town and met some old friends of Manu in the
local Pub Cafe Zentral
.