Travel Schedule
19:53 | damen

default, Thailand

three comments |

For those of you who want to have a general idea on the trip we take in Thailand, here is a basic idea of what we want to do: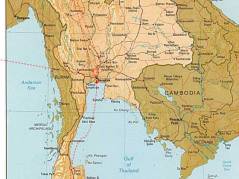 11/02/2007
We'll leave from Frankfurt Airport at 22h10 on Friday evening with
Ethihad Airways
flight EY8. For the trip from Nürnberg to the Airport we have a Rail-and-Fly ticket, but this could become a problem as the German train drivers are currently on strike. So we also made a reservation for a car, just to be sure :(

11/03/2007
We have one stop in
Abu Dhabi
(
airport site
), were we will arrive at 07h10. There we fly out again two ours later at 09h10 to Thailand with
Ethihad Airways
flight EY408.
We'll arrive at the new
Bangkok International Suvarnabhumi Airport (BKK)
at 18h25. Due to the timezones we'll then be traveling over 18 hours. The time difference is 6 hours.
We take the
Airport Express Bus
to Koh San Road, where our hotel (
Hotel Royal
) is just around the corner. We will probably be very tired, so no long nights in Bangkok

.
11/04/2007

We spend the day in Bangkok:
11/05/2007
We spend the day in Bangkok, doing the stuff we did not do the day before. If we are ready for it we'll take the train to
Ayutthaya
, a word heritage with lots of old dynasty temples.
Because we arrive in the evening we have to find a hotel or guest house in Ayutthaya.
11/06/2007
We will spend the day in Ayutthaya and hopefully see a lot of cool stuff (
Info
,
Info on storing luggage
).
In the evening we'll take the night train further to Chiang Mai, where we'll arrive in the morning

11/07/2007 - 11/08/2007
We'll spend the time in Chiang Mai, enjoying the local markets and perhaps take cooking classes.

11/09/2007 - 11/11/2007
We want to take a hiking tour in the Mountains around Chiang Mai, there should be a lot of tours offered from Chiang Mai.
Site of Wayfarers Hiking
Real Travel Chiang Mai - Things to do
Chiang Dao Nest Tours & Trekking, very interesting tour 3 days 2 nights

11/12/2007
We have to take the night train back to Bangkok and from there the plane to the south - Krabi.
We will arrive in Krabi somewhere in the evening and have to take the ferry to the island of Koh Lanta

11/13/2007 - 11/20/2007
We'll spend some relaxing time in Koh Lanta, enjoying good food, the beach, snorkeling and of course some dives for Martijn

11/20/2007
We have to take the flight back to Bangkok and spend the last two days in Bangkok (shopping).
11/23/2007
Our Ethihad Airways flight EY407 will leave the airport at 08h40 in the morning, which means we have to be at the airport very early :(. Then we'll arrive in Abu Dhaibi at 12h15 and leave again at 14h00. We'll arrive in Frankfurt at 17h50 and hopefully we can take the train home and be home at midnight. Too soon!