Snorkling Trip to Koh Rok
17:41 | damen

Thailand

one comment |

Tuesday
Today Martijn had his birthday, so we celebrated this with a nice speedboat trip to the Island of Koh Rok, which is south of Koh Lanta and famous for it's snorkeling. For this we had to get up early and were picked up with the speedboat from our beach at 8h30. After picking up several other people we headed for Koh Rok and arrived there around 10 for the first 40 minutes snorkeling. The water was nice warm (30 degrees celcius) and the visibility also ok (>10 meter). We had in total three 40 minute snorkeling sessions, so we were able to see a lot.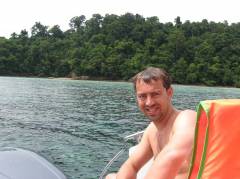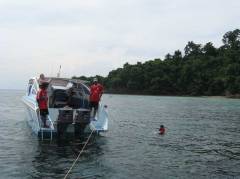 After the first two times snorkeling we had already seen lot's of
clown fish
,
moray eels
(very big one swimming and a tiny one in the rocks),
porcupine fish
,
trumpet fish
,
parrot fish
, too many
trigger fish
for my comfort etc. It was also a nice way for Martijn to do some apnea diving again, because it really had been a long time

After seeing all these nice creatures under water it was time for lunch, and our captain of the speedboat turned out to be also a good cook and host, so we got fine food on the Island of Koh Rok. Here we discovered that it was also possbile to camp here under the supervision of the Koh Rok National Park Rangers, who lived permanently on the island.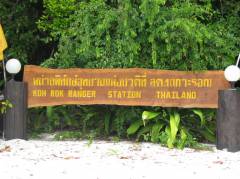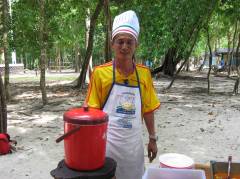 After the refreshing lunch we had some time to look around on the island and enjoyed the fabalous beach. It was really amazing, the sand was extremely soft and 10 meters from the waterline the coral began. Here we also did some snorkeling and were even lucky enough to see a
stone fish
. Furthermore there were again lot's of
Clown Fish
. What did irritate us was some Thai or Korean people who were walking on the coral. These were the same ones in the photo above with the life jackets. Manu made clear that they should not do that, and after that they seemed to keep in line.
There were also a lot of
hermit crabs
(Pagurus Bernhardus) on the beach, which were very funny as they run away and hide if you come near.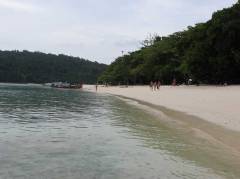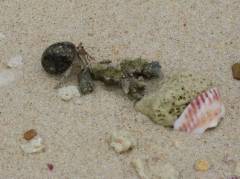 After this we had our last snorkeling, this time is a place where again there were lot's of
moray eels
. After three times 40 minutes snorkeling it was enough and we went back to
Koh Lanta
. We just put the first persons on the beach and had some miles to do as a big rainstorm started

Thus we were completely soaked as we arrived at our beach and were really very happy that our bungalow had warm water

So, due to the rain we could not enjoy the nice sea food bbq that we had planned for tonight, so we decided to have diner at the
Coffee Asylum
where we normally took our lunch. Somehow we missed the sign at the entrance saying they were closed for the evening, and as May and Michael knew that I had my birthday and I told them that some people were coming over they decided that they were open anyway

I must say, of the 10 people that came only one noticed the closed sign

We had some food and then we did something very cool, we let balloons up for luck. This is an old tradition on Koh Lanta and Michal and May had two balloons organized for me, so Manu and I both had one airborne. The perfect thing to do on a birthday, ain't it?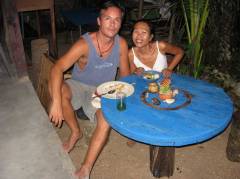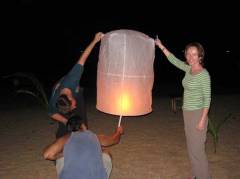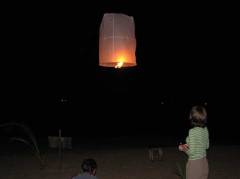 As you can see it is an almost magical sight to see the balloons go up in the sky. As soon as they gain hight you don't see the balloon as is anymore, just a golden light that slowly ascends into the sky. Really cool! After this we enjoyed the rest of the evening with drinks (if you make it to Koh Lanta try the "Blender Medley"... quite a drink!).